THE MEMORIES
Nine more days to go before the Hong Kong trip and I began thinking about where to go and what to do. So I went in search of photos of my previous trips there and I have one conclusion... some photos are better left forgotten!
My very first visit to Hong Kong was in 1988 with my family. When I was 14. When I thought it was cool to wear a cap with a stuffed tiger (I'm born in the year of the Tiger)! OMG... it's super duper
obiang
! I threw the photo out after I scanned it.
The canary that looks like Lei Heong Kum (a famous veteran Hong Kong actress) is my maternal grandmother. I am very close to her as she is the one who brought me up with lots of
leng tong
(directly translated as 'beautiful soup'), love, and hand-holding.
But she suffered a stroke that left her paralysed more than 10 years ago. Subsequently, she suffered another stroke of the throat and she could no longer eat. She loves to eat. But now, she gets her fill from a tube through her nose and directly to her stomach. Life has lost its taste.
Unable to care for her constantly, she now lives in a nursing home and I'm so guilty for not visiting her often enough. Maybe because it rips my heart to see her lying there, waiting for 'that' time to come. It must be such a terrible feeling to have all your senses, but you can't move and just lie there and watch the world go by. Day after day. Year after year. It's like being entombed alive.
I teared slightly when I saw the pic. It was taken atop Victoria Peak, overlooking the urban skyline of Hong Kong. Hong Kong is probably the place she loved to go most because I don't remember any other place that she talked about. When she could still talk.
So this trip, I would like to go to Victoria Peak again. To take a photo and show it to
po po
(grandmother). While she could still see. I don't know if I can identify the exact spot (and I sure won't do that exact pose!), but I'll bring her back images of the place she loves.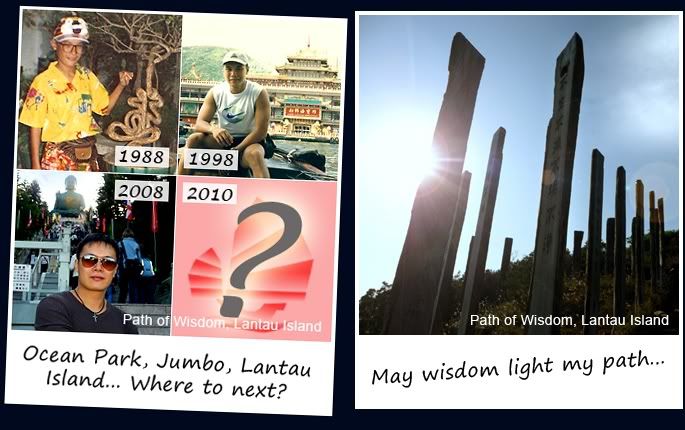 Oh well, enough of all that emo stuff. I'm sure
po po
would be happy to know that I'm getting a FREE trip to Hong Kong! From previous trips there, I've been to Ocean Park, cruise past the iconic Jumbo Seafood Restaurant, and in 2008, to Lantau Island to see the huge Buddha statue. If you're there, don't miss the trail called the Path of Wisdom by the side of the temple. It is very scenic, expecially in the late afternoon as the sun begins to set.
I wonder where I should go this time round, but wherever that could be, I sure don't want to bump into a
tai tai
like this...
That's Lei Heong Kum by the way. :o)